Originally posted by Alan de Enfield

Topic: No4 & No5 Bolt Head Survey, Results & Conclusions
Posted: 04 November 2009 at 8:14pm - IP: 86.144.5.185
No4 / No5 Bolt Head Survey – Results, Conclusions & Suggestions
Background:
A few years ago, having always wanted a 'bit of history', I purchased a Savage No4 Mk1*, it turned out that this rifle had a No3 bolt head and whilst it 'passed' the headspace test I thought I'd better get a bigger bolt head for when I wore out the size 3, I started looking for a size 4 bolt head which are only available in the land of 'unobtanium' (In the last three years I have only ever heard of 3 examples).
During my quest I was informed by several 'old hands' that the bolt head size (number) was a guide only and in many respects was a meaningless number, "Cannot be right" – I thought, why put a number on it if its meaningless, and thus started my research into bolt head numbers / sizes.
I measured my (slender) supply of bolt heads and had a good response from members on other forums, which gave me a good basis for the evaluation.
I feel the results give a good representation of the actual dimensions of bolt heads.
What Size Should The Bolt Heads Be ?
It seems to be generally accepted that No4 / No5 bolt heads should fall in the following range :
Size 0 = 0.620" – 0.625"
Size 1 = 0.625" – 0.630"
Size 2 = 0.630" – 0.635"
Size 3 = 0.635" – 0.640"
Whilst I don't question that this information is printed somewhere, I have not been able to find the original source, the information I have found does not actually state the 'starting' dimension, only that the sizes are incrementally larger :
a) From "Parts Identification List Rifle No4 Mk1 and Mk1*" dated 1945
Bolt head 0 part number BB8584
Bolt head 1 part number BB8585
Bolt head 2 part number BB8586
Bolt head 3 part number BB8587
"Number 0 to 3 increase in length by increments of 0.003 inch"
b) From Canadian National Defence Manual "First Line Maintenance Instructions Rifle No4, all marks" dated 28th June 2002
Bolt head size 0 NSN = 1005-21-103-1143
Bolt head size 1 NSN = 1005-21-103-1144
Bolt head size 2 NSN = 1005-21-103-1145
Bolt head size 3 NSN = 1005-21-103-1146
"…….. the sizes being progressively larger in increments of 0.08mm (0.003")
What Are The Results Of The Survey ?
Firstly points for consideration :
a) Used bolt heads will be worn and should be slightly shorter than new bolt heads.
b) The measurements were taken by many individuals, with varying measuring equipment. In quality control circles this would be totally unacceptable but for the purposes of this survey it is the best we can do, and does give results that demonstrate the point of the survey.
c) There have been instances where a bolt head falls way, way outside the expected (ie a size 0 measuring o.641") and it turns out that some enterprising individual has 'peened' over the rear face of the bolt head by as much as 0.010" (10 thou) to tighten up the headspace, these measurements have been discounted from the results.
The numbers x1, x9 etc are the number of samples reported. (x1 = one sample, x2 = two samples and so on) Any further contributions will be gratefully received and the table updated periodically.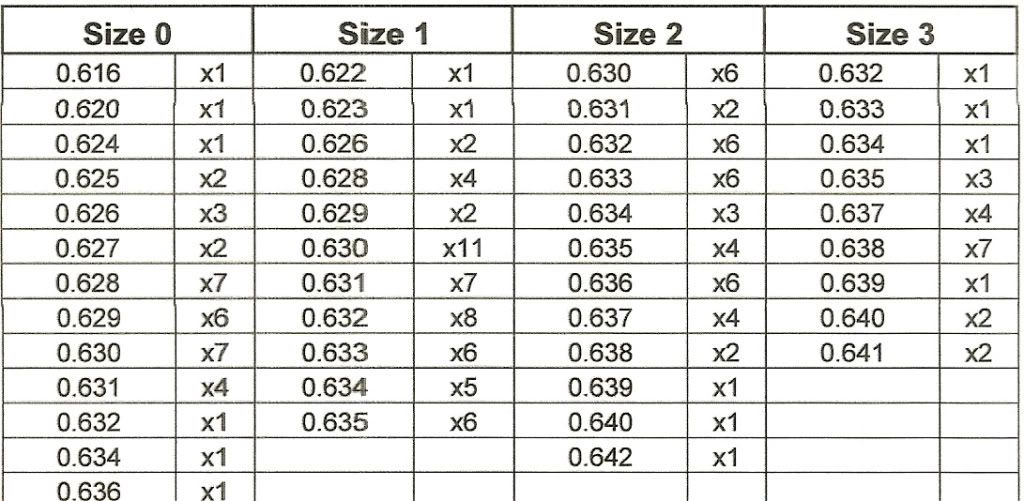 How often do we see the advert "Wanted size 3 bolt head" – hopefully we can now show that its not a size 3 bolt head that is needed – just a slightly longer bolt head.
Example (with sizes taken from the above survey) you have a size 2 bolt head that measures 0.630" but fails headspace by 0.003", you actually need a bolt head that is 0.633"+ and this could be anything from a size 0 to a size 3
I don't want to get into a headspace debate, but we need to clarify what headspace we are looking to achieve.
The Enfield is a British Military rifle and it is they who set the headspace (if others want to set alternatives to achieve their own aims, then so be it). The headspace is specified at 0.064" min and 0.074" max.
So when measuring headspace ensure you use the correct gauges – the American SAMMI 'field' gauge is only 0.070" (The Sporting Arms and Ammunition Manufacturer's Institute (SAAMI) .SAMMI specifications call for a Minimum of .063" and a Maximum of .070" headspace in 30 calibres.) so you could be condemning a perfectly good rifle by using the wrong gauge.
The following are notes from Peter Laidler on proper use of headspace gauges and bolt head sizes :
Now that the gauge is into the chamber and the bolt is being closed, this is where the trouble lies. It's important here to remember the often said phrase among Armourers of 'DON'T OVER CHS'. Here's another thing to remember during this. Because there is a camming action operating while OPENING the bolt, called 'PRIMARY EXTRACTION' this action also operates when closing the bolt. And the same primary extraction forces that will enable the infantryman to force the bolt closed and unlock and extract a possibly distorted shell case, covered in wet silt and mud in the saltwater Magrove swamps of Johore in Malaya that's caused the case to stick hard to the chamber walls will also enable the butchers or bubbas to close the bolt hard against the gauge. NO-GO on the .074" gauge is when, using the lightest finger and thumb action on the knob causes a slight feel of resistance.
The next question you're going to ask is '…where during the bolt closing movement is this slight feel of resistance acceptable --- Is it almost closed or, hardly closed or in between'? Good question and the answer in the bible reads thus: '…with a 0, 1 or 2 bolt head, there must be resistance onto the .074" gauge prior to there being a minimum of .050" from the underside of the bolt lever to the contacting point of the body socket'. Then it goes on to say '…….With a No3 bolt head the left edge…………..' But I want you to forget this because the statement was too ambiguous. I suggest that you use my maxim of 'WITH ANY SIZE OF BOLT HEAD FITTED THERE MUST BE RESISTANCE OF THE BOLT ONTO THE .074" GAUGE PRIOR TO THERE BEING A MINIMUM OF .050" FROM THE UNDERSIDE OF THE BOLT LEVER TO THE CONTACTING POINT OF THE BODY SOCKET. I want the master Masons among you to learn that by rote!
Using this criteria, if a No3 bolt head starts to resist half way closed and a No2 resists at .051" from the body side, then use the No2 bolt head. Remember DON'T OVER CHS
There are a couple of reasons for this. Firstly, it is from a point when the underside of the bolt handle is approx .15" from the sharp curve between the top of the body and the side of the butt socket, that the bolt effectively ceases to move any further forwards and is effectively locked.
The second is that prior to the point of fully locking, a feature called 'mechanical safety' comes into operation and (it's getting technical now……….) the stud on the cocking piece will strike the stud between the short and long cam groove at the rear of the bolt causing a diminished force of blow to the striker, resulting in a miss-fire! Phew!
You will understand that this is a highly condensed précis of events taking in months of learning, investigating and examining undertaken by apprentices and I'm trying to cram it into a 40 minute lesson!
This brings me to another point………. It's very basically this. If you cannot get headspace, even using the very relaxed criteria I have discussed here by using a new bolt and a No3 bolt head, then I'm afraid that it means your body is knackered. This quaint old Armourers technical term indicates that it's seen better days ….., it's xxxxed! You COULD allow yourself up to, say, .078" headspace but the technical opinion reached during research into this during the 50's is that it's a palliative and not a true cure.
Very few of us will have a bucket-full of bolt heads to work with so we need to have an idea of what bolt head size we need to overcome the headspace problem, headspace gauges will tell us it fails but not by how much.
A simple way, that gives a close approximation is by using a case and a primer :
Since the 303 headspaces on the rim, its headspace is the distance from the front of the rim of a seated case to the face of the bolt. To determine that distance we:
Measure the rim thickness of a new case. A fired case will have expanded and closed the headspace. You must use a new, i.e., unfired case. Measure around the rim and use the highest value obtained. For an example, we'll say it measures .062".
Take a fired primer and start it into the unfired case's primer pocket. Seat it just enough that it doesn't fall out.
Hand chamber the new case, and slam home the bolt, seating the fired primer with the bolt.
Remove the case from the rifle's chamber, and measure the distance the primer protrudes from the case head. For an example, we'll say it protrudes .014".
Add the rim thickness measurement to the primer protrusion measurement and you have your rifle's headspace, at least you have a close approximation of its headspace.
In our example, 0.062" + 0.014" = 0.076"
Thus if your headspace comes out at 0.076" and your bolt head is currently 0.630" then you'll need a bolt head a minimum of 0.002" (two thou) longer but ideally somewhere between 0.002" (to give the 0.074" max) and 0.012" (to give the 0.064" min).
Instead of specifying "I want a number 3 bolt head" you can now look for a bolt head between 0.632" and 0.642"
Finally when changing over bolt heads consider 'bolt head over-rotation'.
Check the bolt head to ensure it does not overturn by more than 20 degrees when assembled to the bolt.
The 20 degrees may be measured as 4.76mm (3/16") from the left corner of the bolt head lug to the left corner of the bolt column.
An over-rotating bolt head allows all the recoil to be taken on the threads, with in few rounds your headspace will be back to where it was.
A picture speaks a thousand words :