A square 10 wrote:

i agree , save i think it 43 , nice rifle - if its original you have a keeper 
I thought is was a 43, but having 'blown up' the picture it now looks (to me) like a 45.
That's the problem with poorly struck markings they can be interpreted in different ways by different eyes.
I think another thing in the favour of it being a 45 it the scrubbed action and the quality of the markings - that is only consistent with the second run of production in 45.
This is what I see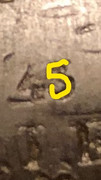 There is 'damage' on the marking and it all looks blurred (like the ShtLE III)